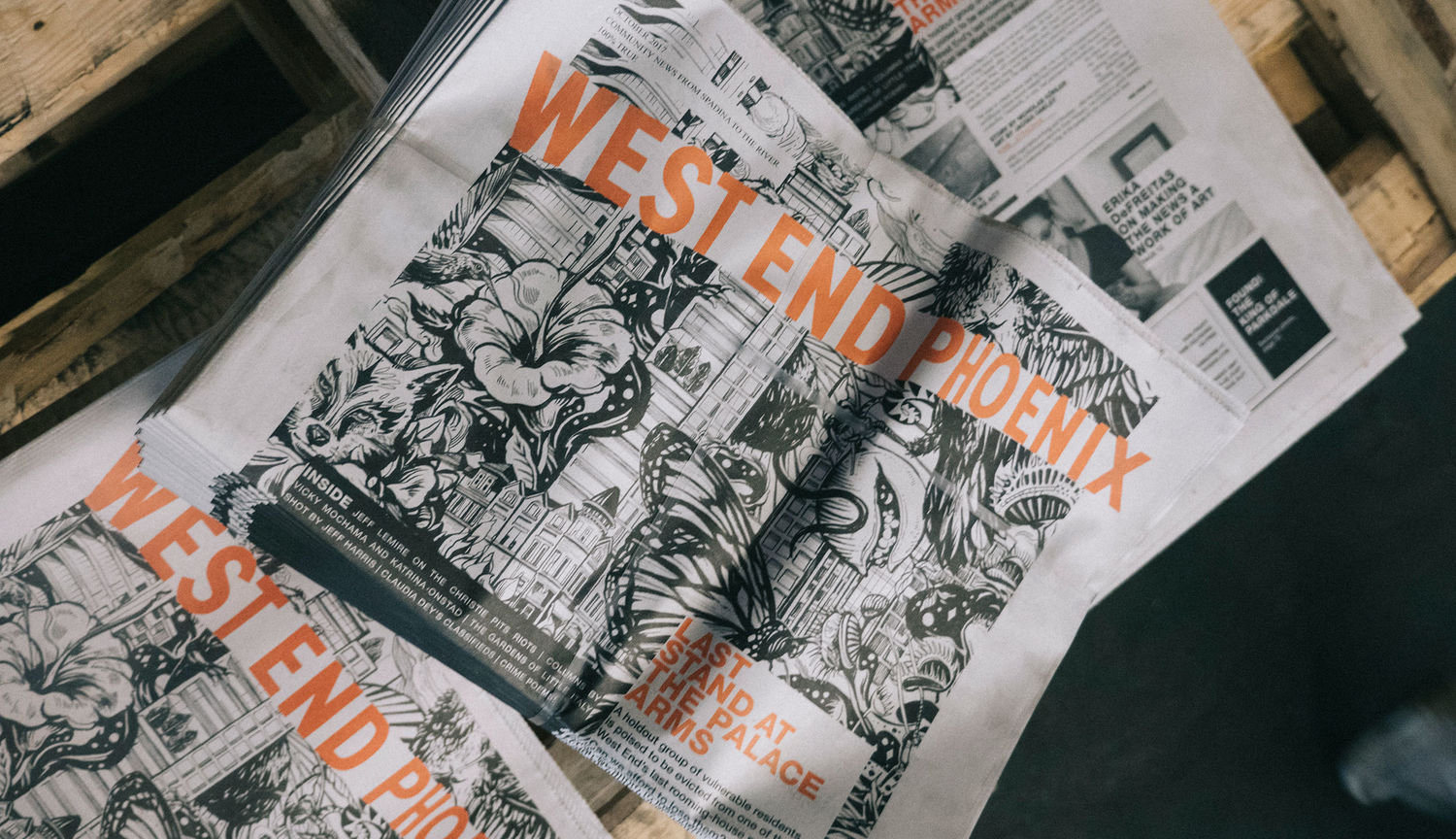 Telegrams from Home: The Games People Play
Welcome to Telegrams from Home, a new collaboration between The West End Phoenix and Kobo Originals. Every week, to help you #StayHomeAndRead, we'll bring you new works from authors and artists on what it's like to live through this period of quiet survival.
Telegrams from Home: Vol. 1 is a new eBook containing these pieces and many more, with proceeds going to Community Food Centres Canada

. . .
As I work the control rods on my old table hockey game, my son hammering the other side, muscle memory draws me back to the days when my parents were younger and the troubles of the world weren't spoken of

A few years ago, I returned to Newfoundland to bury my mother. It was June and, while I was there, I stayed in Corner Brook, in the house where I grew up. We had to get rid of my mother's things and also, my father reminded me, I still had some boxes in the basement; it was time to go through them. Under the basement stairs, I found the old box with my table hockey game in it. Munro, mid-'70s. Plastic figures, no helmets. I took it back with me to Toronto.
These past few weeks, since the end of organized sports, the boy and I have been challenging one another – first to nine goals. It's a strange thing to return to a game you haven't played in 40 years. As kids, we never used a table but sat on the floor. So I tried, instinctively, to squat down as I used to, with bent knees splayed to each side and my bum pretty much touching the rug. My mother used to say I'd be knock-kneed, sitting like that. I talk about my mother to my son as we drop the puck, referring to her as his "dead grandmother," which he doesn't like. She'd be an interesting one to comment on this pandemic.
My mother, Anne Hardy, was born in South Shields, in the north of England, in 1934. She had been an only child, evacuated from her shipyard town during the Second World War to live with an old woman, Miss Ostle, whom she hated. When Miss Ostle died, my mother was reunited with her own mother, who had been working in a munitions factory. And then with peace, her father returned from fighting in Egypt.
She met my dad at a dance in Newcastle in her early 20s, but shortly after she contracted tuberculosis and was sent to live at the Stannington Sanatorium. She underwent surgery to remove part of her lung, and stayed for a year. My father waited for her. During these past few months, I've thought about that time, what it must have been like for her living in a hospital, separated from those she loved.
After she got better, she married my father and had three children, then we all moved to Canada, landing in Gander on D-Day. She touched down in Canada in June and departed this world in June. She never saw her mother again, except to bury her.
As a kid, in summer I used to have to apply sunscreen to the backs of my parents. I hated it. When my mother wore a bathing suit, I could see the TB scar near her shoulder blade. It wasn't until high school, when she noticed the word streptomycin in a Hilroy exercise book containing my biology notes, that she said, "That's what saved my life." What did? "Streptomycin," she said. And that's when I heard the story of her tuberculosis.

The puck is our conversation, moving back and forth.
I explain all this to the kid while we play table hockey on the floor of our living room. I tell stories of the past because I know so little about my own grandparents. I like imagining him being my age with his kids, relaying stories to them about his relations. I sit behind the control rods with one leg bent to the side and I twist and push the rods to pass the puck from player to player, with one hand jammed under a bent knee. The puck is our conversation, moving back and forth. He takes the Leafs and names them Reilly, Marner, Matthews, Freddy. I accept Montreal and name them Lafleur, Cournoyer, Shutt and Dryden. The present meets the past. Sometimes my son complains that my wonky knee is in the way. Other times, in my return to the vigour of youth, I shoot the puck so hard the entire game slips on the rug. "You moved the arena!" my son complains.

I'm surprised as the feel of shunting the puck around from defense to left wing and whipping it around the back boards returns to me. And the boy is surprised at how good I am. But it only takes him a couple of days to catch up, and he performs shots that I don't recall ever making.
My mother would have been two years old the year Donald Munro, here in Toronto, invented his first table hockey game. He made it for his kids at Christmas because he had no money to buy them a present. My mother, a Jehovah's Witness, didn't observe Christmas, but we got gifts because my father insisted. The year I was given the hockey game, my brother and I crept from our bedroom in the dark to see what was under the tree. The hockey game was there. But also, on the couch, was a huge white dog, asleep. I couldn't believe the extravagance of this white dog. My parents were too practical to give us a gift like that! I reached out to touch the giant dog before my brother could warn me, "No." As my hand brushed its fur, the shape suddenly turned into the terrycloth shoulder of my sleeping mother.
My son, like his grandmother, is an only child. And we have been self-isolating. I live with my ex, his mother. We are getting along, the three of us. It is an intense, critical time that we share, in isolation, with all of you. My son knows much more about our complicated lives than I ever knew about my own parents' relationship. We check on him, to make sure this arrangement is not too strange for him. My ex and I both have siblings that helped us with the world of parents and their behaviour back when we were growing up. Families were strange in my day but nothing was said about the strangeness. A lot more is said now, though, and there are troubles aplenty. It's a new game, this family life, played on an old surface.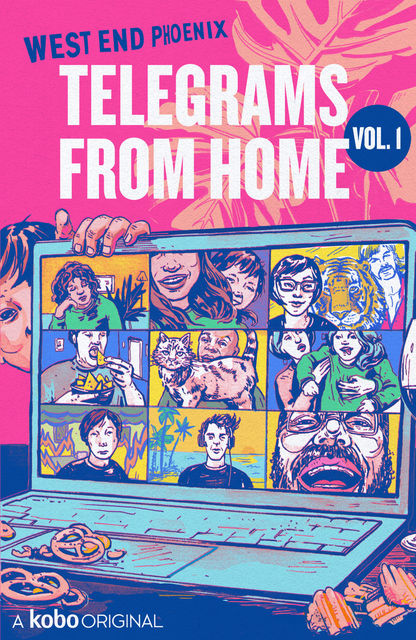 Telegrams from Home: Vol. 1
Proceeds from this collection will go towards supporting Community Food Centres of Canada, a national organization building health, belonging and social justice in low-income communities, and their Good Food Access Fund, an emergency relief fund providing take-away meals, produce boxes, grocery gift cards, and other emergency support for Canadians facing economic uncertainty.

View Book