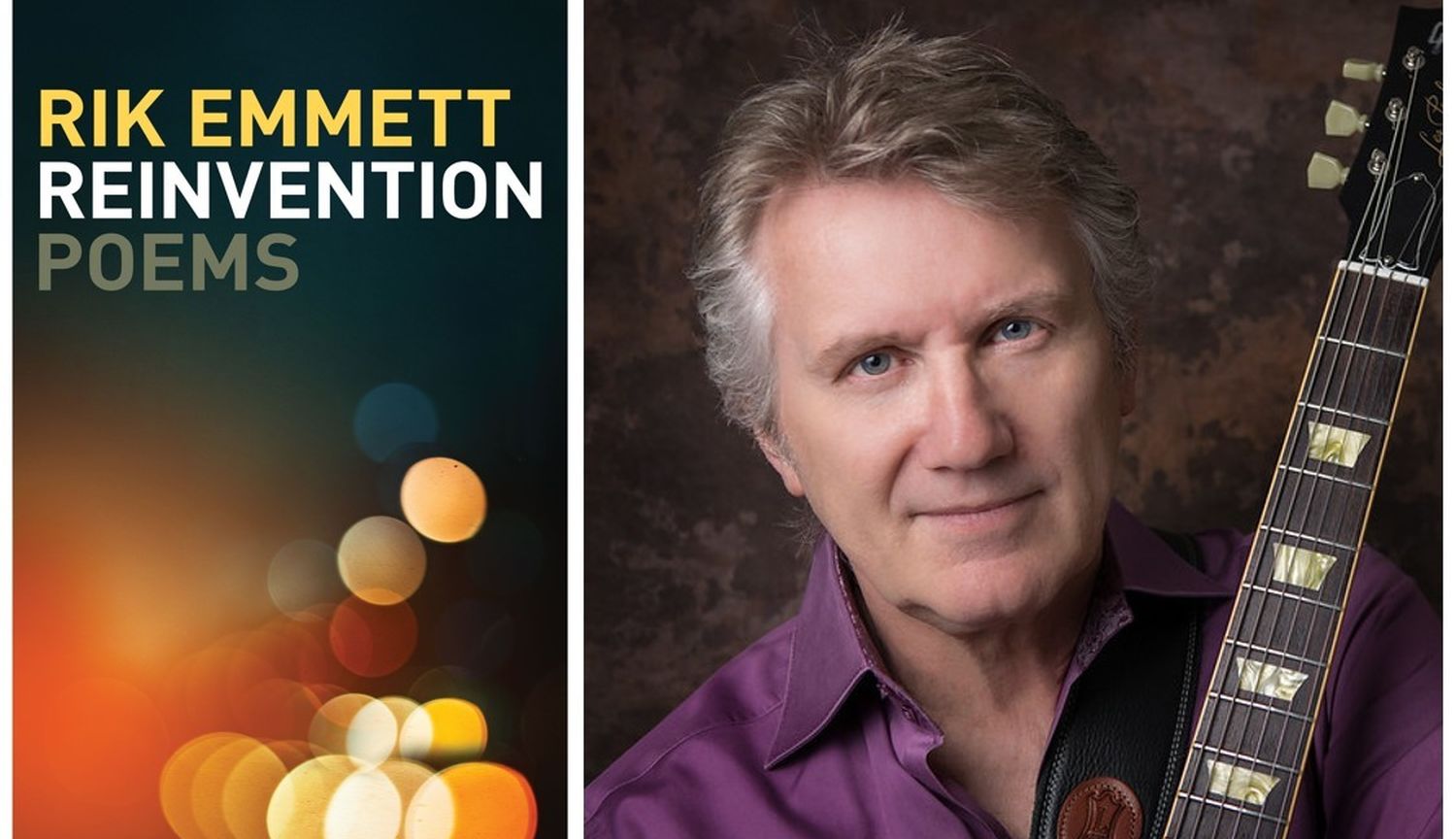 Rik Emmett's humble reinvention
Canadian rock legend Rik Emmett has just published his first book: a collection of poems called Reinvention. We spoke with Rik about this new creative outlet.
What are the books on your nightstand at the moment?
I'm not too discriminating about what makes it onto my night stand. At the moment I'm in the middle of Steven Pinker's The Stuff of Thought. But I'm also reading Colin Jost's memoir.
I'm also a dedicated daily newspaper reader.
I read some poets, and that's a lot to do with the creative path I've chosen for myself. I'd never read Wallace Stevens before, and I've been reading other peoples' takes to really get to the bottom of what he's doing. Poetry for me right now feels a lot like that point early on in playing the guitar, where you realize how much there is to learn and you're just taking baby steps along this long journey. In writing this book, I think I may have benefited from being naïve. [laughs]
This book isn't the rock star memoir people might have been expecting from you. When did you know you had a writing project that was going to be a book of verse, rather than the tales-from-the-road memoir that your fans were probably expecting?
Don't worry—the rock n' roll memoir's going to happen. I've got thousands of pages from a long-running blog where I've been posting for years, mostly answering questions from fans. Stuff like, "what were you thinking when you wrote this song?" Or, "What guitar were you playing on this track?" That kind of thing. So there are probably a few books in that, one of which is a memoir.
But as for this book of poetry, a lot of it comes from my practice of journaling constantly. I'm a spiral notebook kind of writer. Every day there's stuff going into that notebook. Sometimes it's lyrics, but it could be anything. I'm retired now, so something I've been thinking about a lot is, who am I now? What do I do? These are autobiographical questions, but I'm a songwriter by nature—I've literally done it since I was 10 years old—and that's a process where you nurture these little acorns of ideas into something bigger. But I wanted to give myself broader license with this project; I didn't want the rigidity of a song, where you're aiming for a rhyme scheme, coming back to a chorus, and supporting a melody. I thought, what if I just worked on the core of an idea, through metaphor and symbolism, but without locking myself inside the discipline of songwriting? That said, there are pieces in Reinvention that are pretty much songs: there's a rhyming scheme and a flow. With those, that's how the words came out, and I decided not to fight it.
In my acknowledgements I thank Stephanie Burt, a literature professor who wrote a book called The Poem is You, which was a big part of my early research into what writing poetry might entail. And Adam Sol's book How a Poem Moves helped me feel brave enough to dive in.
The audiobook includes music, and we've talked a lot about how writing verse is a new mode of creativity for you, but as you're writing are you hearing chord progressions and melodies?
I'm a magpie about creativity: I'm always making audio notes in my phone, whether it's a melody, a turn of phrase I overhear or read in the newspaper, or a chord progression where I'm singing it and talking myself through some of the nuances I'm hearing in my head if I don't have a guitar handy. But there have been a lot of times in my life where there's a deadline, usually an album that needs to get made, so I know I better be thinking in songs: everything needs to be a lyric, a melody, or chords, and it all better amount to something substantial. When I was younger and that process was newer to me, sometimes it would be just the words on their own.
For a long time inside my head I had both Rodgers and Hammerstein, working on music and words separately. There's more balance and blending between the two now.
Who's the perfect reader for this book?
I think the perfect reader will forgive me my literary sins and give me a chance. When Bob Dylan won the Nobel Prize for Literature, there were people who sniffed at that and others who thought, okay well maybe that makes sense. I think I'm hoping for the type of reader who falls into the latter category—not that I'm Bob Dylan or a Nobel contender!
There's a vulnerability to poetry that music doesn't quite allow. The guitar, the songs, those are kind of security blankets, or even a mask. Poetry feels like taking off the mask.
But to be honest I'm not really thinking about the perfect reader. I think maybe I'm the perfect reader for this book. Which is funny, because when I taught songwriting often students would come back at me with, "I don't write for other people; I write for me," and that's fine as far as it goes, but you need to engage the listener, you need to have a conception of your audience. When I would introduce myself as part of a panel for evaluating students' final recording projects, I'd introduce myself as, "Hi I'm Rik Emmett, and I've never made a record that didn't make money." I was always trying to get across that I'm unlike my extremely gifted jazz-schooled colleagues, I'm a commercial guy. My colleagues found that line extremely funny, by the way. But that's good, you need to stay humble. Humility is the place where you get good art. ◼
This interview has been edited for length and clarity.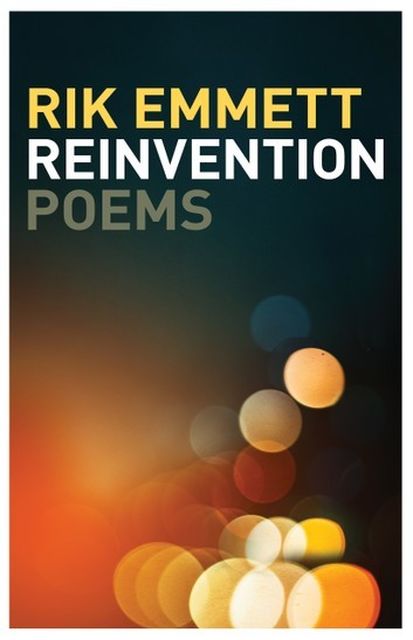 Reinvention: Poems
Reinvention is a largely autobiographical collection of poetry — a project that followed on the heels of Rik Emmett retiring from a touring musician's and college educator's life in early 2019. Inside all of the slashes that define him — singer/songwriter/guitarist/rock star/teacher/columnist — writing has always been his strongest avocation, and the poetic style of "Ultra Talk," in particular, offered a welcome spark for a songwriter's freedom of expression. This creative license is organized under seven headings – The Humanities, Life & Death, There's Politics in Everything, Double Helix, Soapbox Sermonettes, Time Time Time, and Ars Nova 2020. Reinvention makes some sense of a life that always went in a lot of different directions at once.
View Book