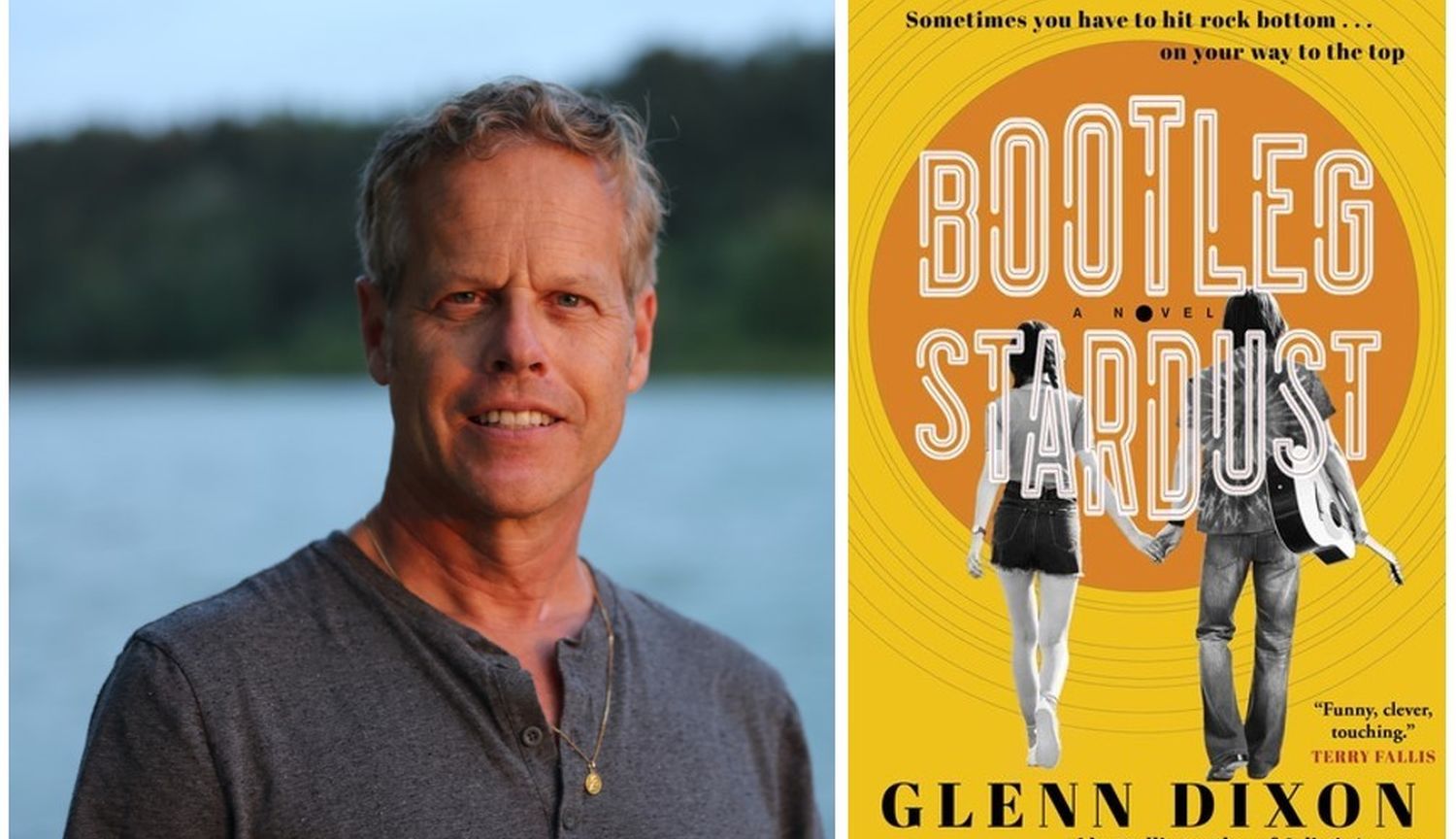 Renaissance man Glenn Dixon on writing his first novel
Glenn Dixon is a musician, filmmaker, non-fiction writer, and now debut novelist, with the release of Bootleg Stardust.
We spoke with him about the musical underpinnings of his new book, and how he manages his time with so many creative outlets at hand.

How do you go about choosing what to read?
I grew up with a little pile of books by my bedside. To this day, I've usually got three or four books on the go at any one time and so it just depends on my mood. When I'm writing a book, though, I like to focus on other books set in the same time period or books with similar themes. For Bootleg Stardust, my reading list was a whole lot of fun. I ploughed through a slew of rock star autobiographies. Keith Richards' memoir Life was a crazy train for sure and Bruce Springsteen's Born to Run was philosophical and full of life lessons. And, of course, I've read anything and everything there is about The Beatles.
You've written about heartbreak and music before in works of nonfiction. Did that prepare you well to write Bootleg Stardust – or is fiction an altogether different beast?
My last book, Juliet's Answer, was entirely a true story. It's what happened to me in Verona, Italy when I volunteered with the legendary Secretaries of Juliet. They answer the thousands of letters that pour in every year, all of them addressed to Juliet and all of them asking about love and, as you say, heartbreak. Well, my adventures there literally changed my life. That book was a work of creative nonfiction -- meaning that I used all techniques of novel writing – lots of dialogue, scenes like in a movie -- and all that helped me shift to writing a completely fictional story. I won't say it was easy, but I will say it was fun. My editor read through the first draft and called it a mad romp or some such thing and I kind of like that. I loved writing it and I really hope people will fall in love with the characters as much as I did.
This novel is about the fictional band, Downtown Exit – which isn't exactly fictional since you wrote and recorded a whole album. Did you know as you were writing the book that you were going to make a musical project out of it as well? How clear was the music in your mind as you wrote the book?
No, I'd say the music came a bit later. I've played in bands my whole life so I know what it's like to stand up there on stage, to see the audience from the other side. It just so happened that at the time I was writing Bootleg Stardust, I joined up with a bunch of guys just like myself. We'd all wanted to be rock stars in our younger days and then life happened (just like John Lennon said) but now, all these years later, we formed a band and holy crap, we're actually pretty good. There are three song writers in the band, and three lead singers and we realized that the characters in the book could be kind of like our much younger avatars. We eventually recorded some of the songs on the Rolling Stones Mobile recording studio. This old truck was owned by the Stones and used by Led Zeppelin and Bob Marley and pretty much everyone back in the day. It has a recording studio built into the back of it and it had just been rewired and cleaned up and I think we were one of the first bands to use it – after it had sat in storage for twenty five years or so. And the sound! We knew right away that we were recording something special. And so, Downtown Exit came into being for real. In fact, each chapter title in the book is a song and you can hear them now on any of the streaming services. Just look for Downtown Exit.
Were there any books about bands and music that you took inspiration from to write Bootleg Stardust?
Oh yeah, there are lots. I've got a particular fascination with fictional bands in books. There's The Commitments by Roddy Doyle which has to be one of the greatest rock and roll books ever written. Then there's High Fidelity by Nick Hornby (where Jack Black's character in the movie has a band called Sonic Death Monkey, which, you have to admit, is a great band name). Or what about the Canadian classic, Whale Music by the late, great Paul Quarrington? And if you want to read a really stunning book, there's A Visit from the Goon Squad. It's about a punk band in the early 80's - well it's really much more than that - and it won the Pulitzer prize in 2011. Great book.
In addition to writing and music, you've also directed short films: how do you pick your creative projects among so many options?
It really all works together. When we got the green light to record on the Rolling Stones Mobile well, of course, we had to film that because it was history in the making. And Abbey Road studios also plays a role in the book (Downtown Exit are recording there in chapter two) and right before the pandemic hit, I fulfilled the dream of a lifetime by traveling to London and actually working in Abbey Road studios. We had some rough tapes that we took there to get mastered and I tell you, it was almost a holy experience walking up those steps, being in the very rooms the Beatles used. So, of course, I had my film camera going the whole time. Who wouldn't want to record that? And that's it. This little book, Bootleg Stardust, has a musical soundtrack and a whole flurry of short videos to go along with it. They're not quite music videos – more like little documentaries - but you can find them anywhere. ◼
Bootleg Stardust
It's 1974. The music world is rocking with bellbottoms, platform shoes, and lots and lots of drugs. This year's sensation is an American band called Downtown Exit and their latest album has just gone gold.
For high school dropout Levi Jaxon, things aren't so great. After bouncing around foster homes for years, he's living in his best friend's basement. His dream is to someday be a rock star, but he has a problem—his own band has just broken up.
Utterly magical and transporting, Bootleg Stardust is a one-of-a-kind joyride about the power of music to bring people together—and break them apart—and the courage it takes to find your own voice.
View Book
Author photo by Desiree Bilon