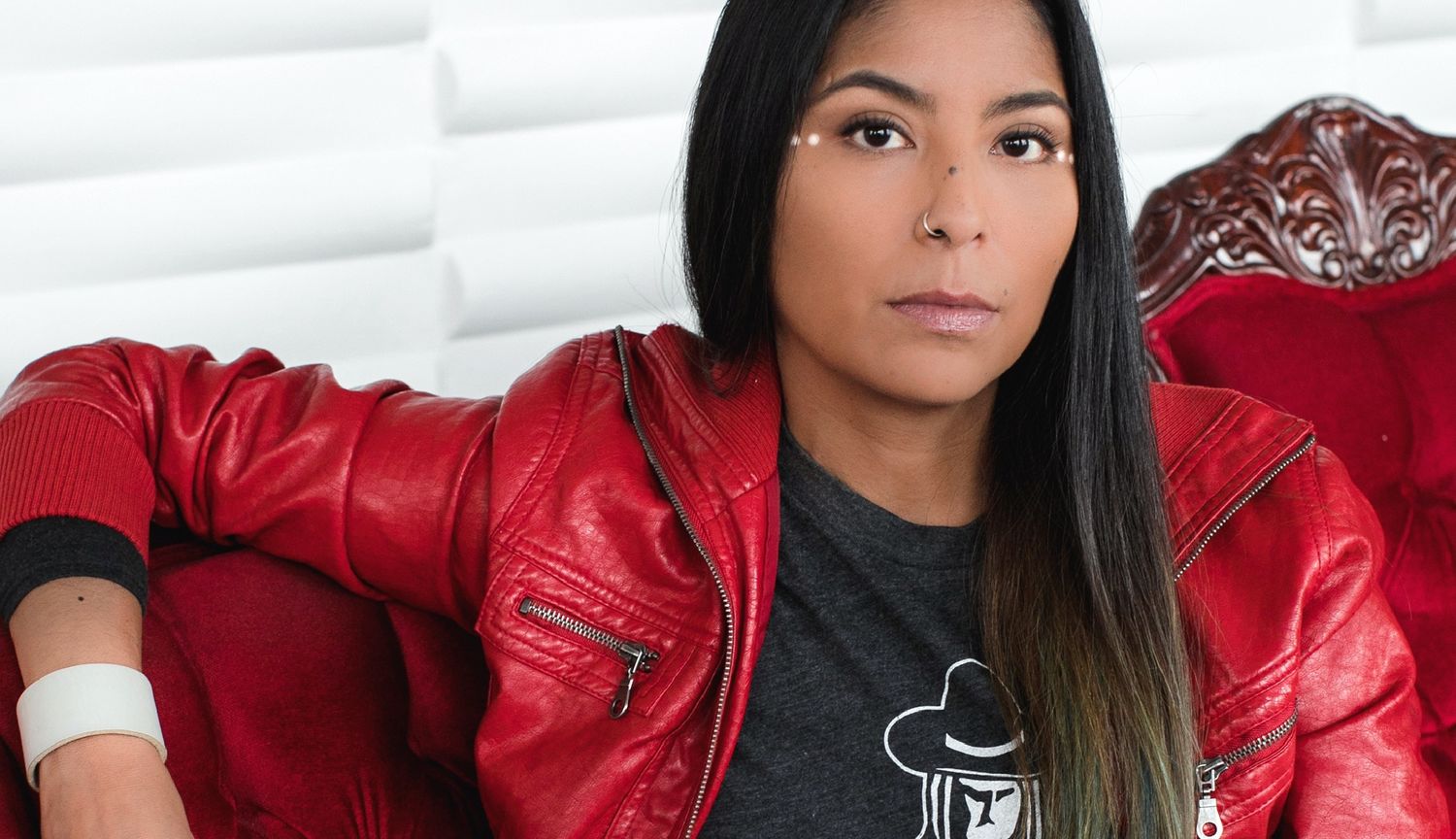 Changing Indigenous narratives one photo at a time
"Follow The Reader" is our series featuring unconventional leaders and trailblazers.
Nadya Kwandibens, founder of Red Works, is using her self-taught skills as a photographer to change the way the world views Indigenous people and culture.

A member of the Anishinaabe Ojibwe nation, Nadya has built her award-winning career on storytelling through imagery – highlighting the vital relationships we have with one another and nature, and exposing the inaccurate perceptions people often have of Indigenous history and ways of living.
"If our history is a shadow, let this moment serve as light," she says of her work. "We are musicians, lawyers, doctors, mothers and sons. We are activists, scholars, dreamers, fathers and daughters. Let us claim ourselves now and see that we are, and will always be, great, thriving, balanced civilizations capable of carrying ourselves into that bright new day."
Though she already has five photography series under her belt, it feels like Nadya is just getting started. Here she gives us a glimpse into how she sees the world and considers how other forms of storytelling have influenced her art.
What drew you to photography as an artistic medium?
I think I've always been a storyteller and I've always needed to express myself creatively. I loved that I could use this medium to share my experiences and eventually it just encompassed a lot of different people I met. Just being able to gather and listen and share with others is really important to me. I always make sure that what I'm doing is an honest representation of who we are as Indigenous people.
What story are you telling through your photos? What message do you hope people receive?
It's an Indigenous narrative. It's to combat and resist the colonizers' narrative that prevails in the mainstream. The erasure of Indigenous history is something that I don't think a lot of people know because they're not taught in school, so just to be a part of that truth-telling, to be able to push Indigenous voices to the forefront and to switch that narrative, is why I do the work I do. I'm drawn to it because I think it's really important that people know the truth.
How do you feel about the progress we've made as a society?
It needs to happen faster. Indigenous philosophies, our worldviews, our cosmologies and our intelligence has so much to offer society...and the world, really.

"I like to revisit the books that made a really deep impression on me and that helped my own understanding as an Indigenous person."
What elements of Indigenous culture do you wish were more widespread?
Our inherent responsibility to the land and to the planet. It's about fostering and caring relationships. I'm not just talking person to person; it goes so much deeper than that. It's the interconnectedness of it all. Just being able to show a bit of that in my work is really important. There are so many artists doing the same work across different mediums, and it's our responsibility to help other people have a deeper understanding of that.
You've described yourself as a storyteller and storytelling is such a big part of Indigenous culture. What written stories are some of your favourites?
I'm an avid reader. I usually read for about two or three hours every morning, but I'm so tired today, I missed my morning book session. I don't like going right to social media or to work, you know what I mean? I'd rather just sit, read and have a coffee. It's a really gentle way to begin the day.
I'm reading a book right now called Killing the Shaman by James R. Stevens and Thomas Fiddler about this lineage of medicine men in northern Ontario and part of Manitoba who were put in these positions because of their spiritual and healing skills. They're called the Fiddlers. The book examines the criminal justice system in Canada and I read it for the first time when I was 16 or 17. I like to revisit the books that made a really deep impression on me and that helped my own understanding as an Indigenous person.
I also love legends, so just reading about different stories that parents have passed down to kids. Basil Johnston is one of my favorites for sure, but there's a whole scope of literature and authors that I like: Eden Robinson; Louise Erdrich; Leanne Betasamosake Simpson; Cherie Dimaline; Edward Benton-Banai – he's got a really comprehensive approach to sharing the things that he was taught growing up...to passing on those basic Anishinaabe tenets and cultural teachings. Also, my cousin was Richard Wagamese and I've read almost all of his books.
There are so many poets too: Billy-Ray Belcourt and Joshua Whitehead are two of my favorites.

"So many Indigenous kids are taken from their families right from the hospital; it's an industry. That's one of the ways that Richard [Wagamese]'s writing really resonated with me… the similarities and emotions of going through all of that."
Do any of these writers inspire your photography work?
Great question, I've never thought about melding my passions like that. I'm going to bring it back to my cousin, Richard. I didn't find out until later in life that we were related, but his style and the way he told his stories was something I really connected to right off the top.
The first book I ever read of his was Keeper'n Me. That story really stuck with me because I grew up in foster care away from my biological family, so I was learning about the similarities between his story and mine.
There are so many times the Canadian state removed Indigenous children from their families – you've got residential schools, the Sixties Scoop, the Millennium Scoop – and it's still happening within the foster care system. So many Indigenous kids are taken from their families right from the hospital; it's an industry. That's one of the ways that Richard's writing really resonated with me… the similarities and emotions of going through all of that.
Has the pandemic changed your view on life and your photography?
I live alone, so it was really hard at the beginning, but I've had the time to go in and examine what's important to me. I draw it back to strengthening my relationships – really looking at kinship and what it means to me – and capturing the connections we have with one another.
I did a really short physical-distancing series called "Instances" where I photographed different people throughout the pandemic. It allowed me to reconnect with some of my friends and to meet new people who had just heard about my work. Being creative and getting out there was really inspiring, and it was nice to walk around and get my body moving.
It's so hard to focus for me lately, though. I know a lot of people are in the same boat. What's it called? Brain fog? [Laughs] It's hard to pull yourself out of it. You've just got to take it easy and listen to your body...only do what you can.
Is the "Instances" series publicly available?
Right now most of the portraits are available on my Red Works socials: Facebook, Twitter, and Instagram.
What's next for you?
I have a solo show opening in Kenora and I recently got hired by Canada Mortgage and Housing Corporation (CMHC). It's a year-long contract to populate their image bank because they don't have any Indigenous people in their photos.
I was also recently announced as one of the long-list jurors for the Polaris Music Prize, so I'm going to be listening to a lot of music this month. Plus I'm a Canon ambassador for another year and a half and I have an augmented reality piece that I have to research. It really picked up starting last month.
Yeah, you're busy! That's great, especially since you've spoken previously about being self taught. What advice do you have for other creatives who are learning or considering learning new media themselves?
The way I taught myself was trial and error; going online and doing my own research. A lot of us have so much time on our hands right now, so just get out there and do it. It's a pretty straightforward approach. I've always been the type to throw caution to the wind. I love the excitement of just going for it. If you make a mistake, don't worry. That's a learning point.
There's no reason to be scared of something you feel really passionately about; something that you love. It'll fulfill you, and not just you...especially with something like photography. It'll make other people feel good too. ◼