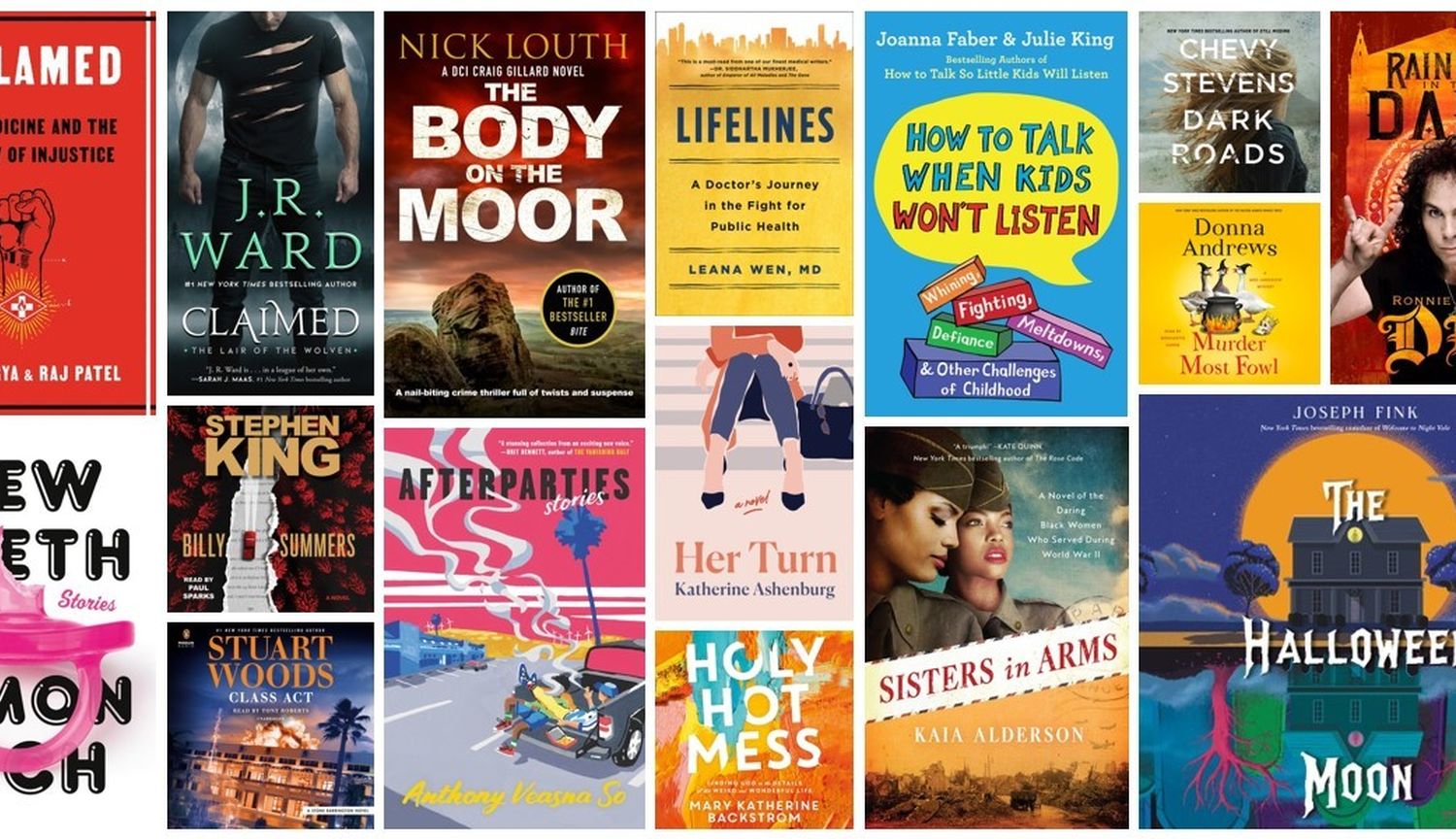 75 new eBooks and audiobooks coming out July 27 - August 9
Welcome back to New & Hot Reads, where we gather up some of the most anticipated eBooks and audiobooks coming out now.
This week we're loading you up with 2 weeks of releases to make sure you have everything you need on your summer getaways.
Nearly a year and half into this pandemic, it's hard to think back to a time before the names and faces of our public health officers were not widely recognized. Which makes right now a great time to read Lifelines: A Doctor's Journey into the Fight for Public Health by Dr. Leana Wen, former Baltimore health commissioner and present contributor to CNN and the Washington Post. If you've ever wondered what exactly public health officials are up to when not tracking pandemic-related infections, injections, and deaths, this book will not only satisfy your curiosity but make you grateful for the largely invisible part of the healthcare system that delivers tangible results every day.
And once you've gotten Dr. Wen's view of how public health should work, Rupa Marya and Raj Patel's Inflamed: Deep Medicine and the Anatomy of Justice will show you how structural inequality creates different health outcomes due to specific anatomical impacts. They get deep into the body, showing how circulation, respiration, hormones, and every other biological system is impacted by factors linked to conditions and events (not to mention different practices of medical care), that don't hit haves and have-nots equally. The result of this inequality is, of course, further inequality. The authors have radical suggestions about how to repair this broken system, much of which will sound familiar to readers familiar with themes of racial justice and environmental restoration.
Journalist Katherine Ashenburg's career as a writer of books couldn't be more varied. Starting in 2002, she published several completely different works of non-fiction (a cultural history of cleanliness, a guide to the architecture of Southern Ontario, and a study of mourning rituals), and then she published her first novel, Sofie and Cecilia, a work of historical fiction set in the late 19th century Swedish art world, against every expectation but to near universal acclaim. Her new book is as unlike the rest of her work as we should have come to expect: Her Turn is a novel set against the 2015 US presidential primary, about a journalist, Liz, whose life is going pretty well, all things considered. When "My Turn," the newspaper column she edits, receives a submission from a reader who appears to be the woman Liz' ex-husband cheated on her with, it knocks her off balance, and everyone around her wonders what's gotten into her. Furthermore, they wonder whether she'll flame out before she gets whatever it is out of her system. It's a novel full of wit, but with a beating heart that knows what it means to be hurt.
When internationally-beloved novelist Gabriel García Márquez passed away in 2014, the world lost one of the great literary artists of the 20th century. In his brief memoir, A Farewell to Gabo and Mercedes: A Son's Memoir of Gabriel García Márquez and Mercedes Barcha, the author's son Rodrigo Garcia tells the story of his father's final days as well as the loss of his mother, which came six years later. Fans of Gabriel García Márquez's masterpieces such as Love in the Time of Cholera will want to spend time with the author's son, a screenwriter and film director, who lovingly completes his father's life's work by telling the one story that Gabo couldn't.
Family is on the mind of comedic wunderkind Simon Rich in his new collection New Teeth. Rich is a master of the kooky premise played straight for maximum comedic effect, and he plays to his strengths here. In this collection his premises include a toddler playing the part of a world-weary detective (in homage to Raymond Chandler, it's called "The Big Nap"), a hapless cinephile whose entire film collection exists on LaserDisc, a pair of pirates trying to balance childcare duties after discovering a child stowaway, as well as a woman whose unique Thanksgiving stress comes from hosting dinner for the wolf pack that raised her. It's all very clever, and very funny.
Another short story collection, Afterparties by Anthony Veasna So, paints a portrait of immigrant life among Cambodian-Americans in California. As with any great fiction (and So has drawn favourable comparisons to the late Jewish American novelist Philip Roth) the stories in this book delve deeply into the cultural specifics of these characters to unearth universally relatable moments and emotions. There are men embarrassing themselves in an effort to win back the glory of youth. There are drunken siblings at a wedding making highly questionable decisions. There are children learning things about their parents that they'd never imagined. Whether So persists in the craft of the short story or launches into a novel later on remains to be seen, but there's no doubting that this is a writer that readers will want more of when they turn the last page of this book.
More books coming out July 27 - August 9
💭 Big Ideas
🗣 True Stories
💘 Romance
🗡️ Crime, Action, and Mystery
🖊️ Literary Fiction
✨ Fantasy and Speculative Fiction
Check out even more new eBooks & audiobooks here