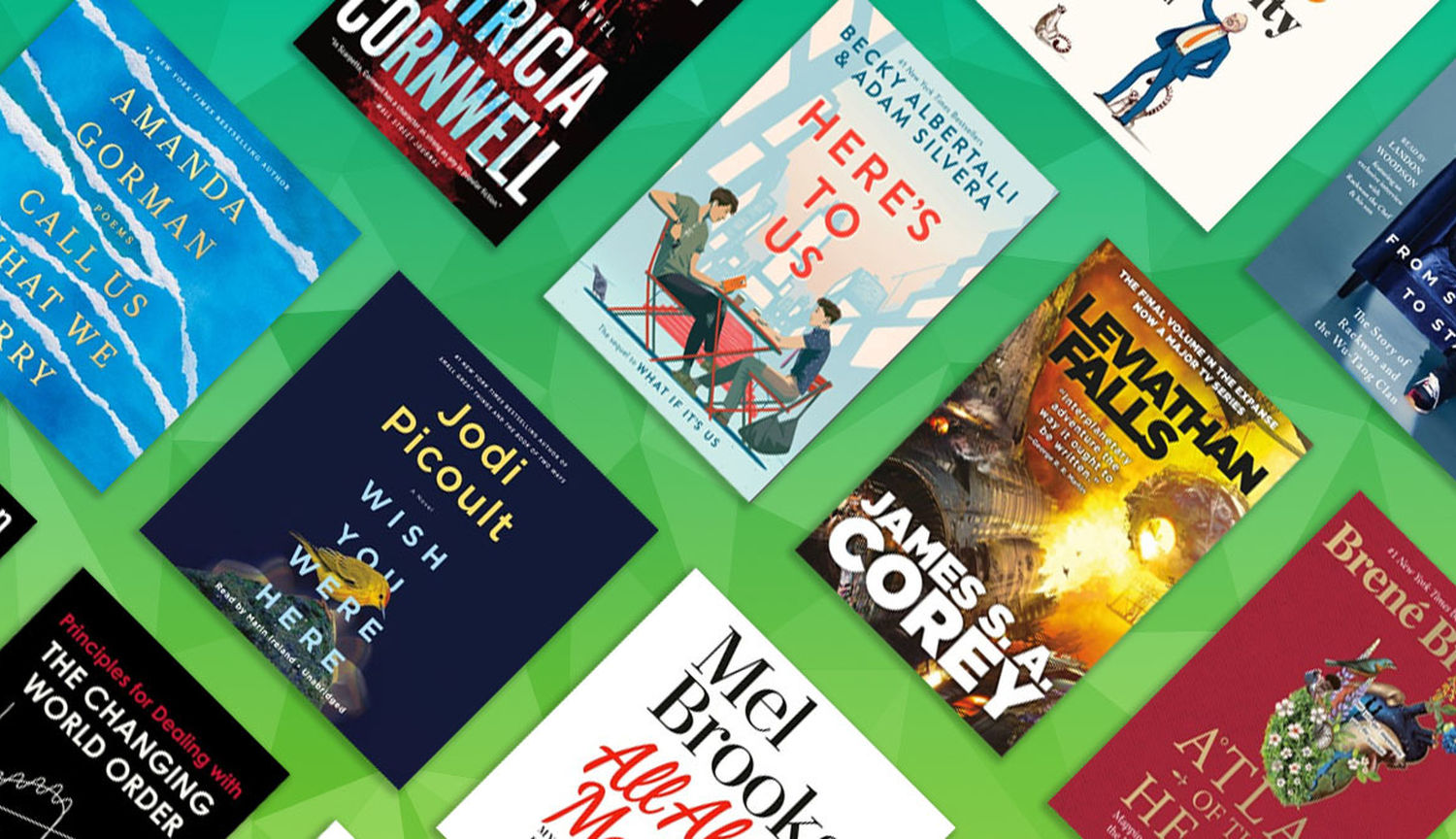 70 new eBooks and audiobooks coming out November 30, 2021 – January 3, 2022
The best of the rest of the eBooks and audiobooks coming out in 2021
With Leviathan Falls, James SA Corey draws the monstrously popular Expanse series to a close. The series found fans among authors of "realistic" sci-fi like Andy Weir for its depiction of how interplanetary travel and communication might actually work in its earliest routine form, and how politics and culture would be shaped by the separation of human populations across such great distances. The books spawned a TV series that's also wrapping up now.
Other series wrapping up as the year winds down include Natasha Ngan's Girls of Paper and Fire, Brandon Sanderson & Janci Patterson's Skyward Flight novellas, Fonda Lee's The Green Bone Saga, and The Nova Vita Protocol by Kristyn Merbeth.
Becky Albertalli & Adam Silvera have teamed up again to deliver a sequel to their bestselling romcom collab What If It's Us. Here's to Us picks up with Ben and Arthur crossing paths as they make their way in New York City, leading them to wonder if fate is trying to tell them something.
Jodi Picoult's Wish You Were Here isn't exactly a COVID novel, but it's not not a COVID novel. A global pandemic plays a significant role, but it's not the one we're (still) in. Set in the Galápagos, it's the story of a young woman on vacation and on the brink of the next step in her life—marriage, a promotion—but forced to pause and take stock when she finds her way back to New York City obstructed by pandemic-related quarantines.
Autopsy is Patricia Cornwell's first new novel in 5 years, which is almost as surprising as discovering that she hasn't already written a novel with that title. Fans will be delighted to know that not only is Dr. Kay Scarpetta back in a new book, but there's also a TV series in development.
Mel Brooks and John Cleese, pre-eminent elders of some of the funniest cinema and TV of the 20th century, both have new books out—by which we mean they have new audiobooks out because honestly why wouldn't you want them to read to you? Brooks' All About Me! My Remarkable Life in Show Business is the EGOT (Emmy, Grammy, Oscar, Tony)-winning comic and filmmaker's story of his life and times. John Cleese's Creativity: A Short and Cheerful Guide is the Monty Python & Fawlty Towers creator's advice on how to get your creative juices flowing. At just 1 hour of runtime, it is as short as it says it is, but that's all in the spirit of helping you get on with your own creative work.
Brené Brown attempts to almost literally map out the whole of human emotion on Atlas of the Heart: Mapping Meaningful Connection and the Language of Human Experience. She names precisely 87 emotions and experiences with the aim of making these feelings more tangible and understandable. It's a bold, fascinating move that shows Brown isn't just a self-help author with a PhD, but a curious and ambitious theorizer of human experience.
On January 20th Amanda Gorman became the most famous poet in America after reciting her poem The Hill We Climb at the inauguration of President Joe Biden. Since then, readers have been counting the days until their pre-orders for Call Us What We Carry, Gorman's breakout collection, would be fulfilled. On December 7 that day arrives, proving that good things come to those who wait.
More books coming out November 30, 2021 – January 3, 2022

✍ Poetry
💭 Big Ideas
🗣 True Stories
💘 Romance
🗡️ Crime, Action, and Mystery
🖊️ Literary & Contemporary Fiction
✨ Fantasy and Speculative Fiction
Check out even more new eBooks & audiobooks here