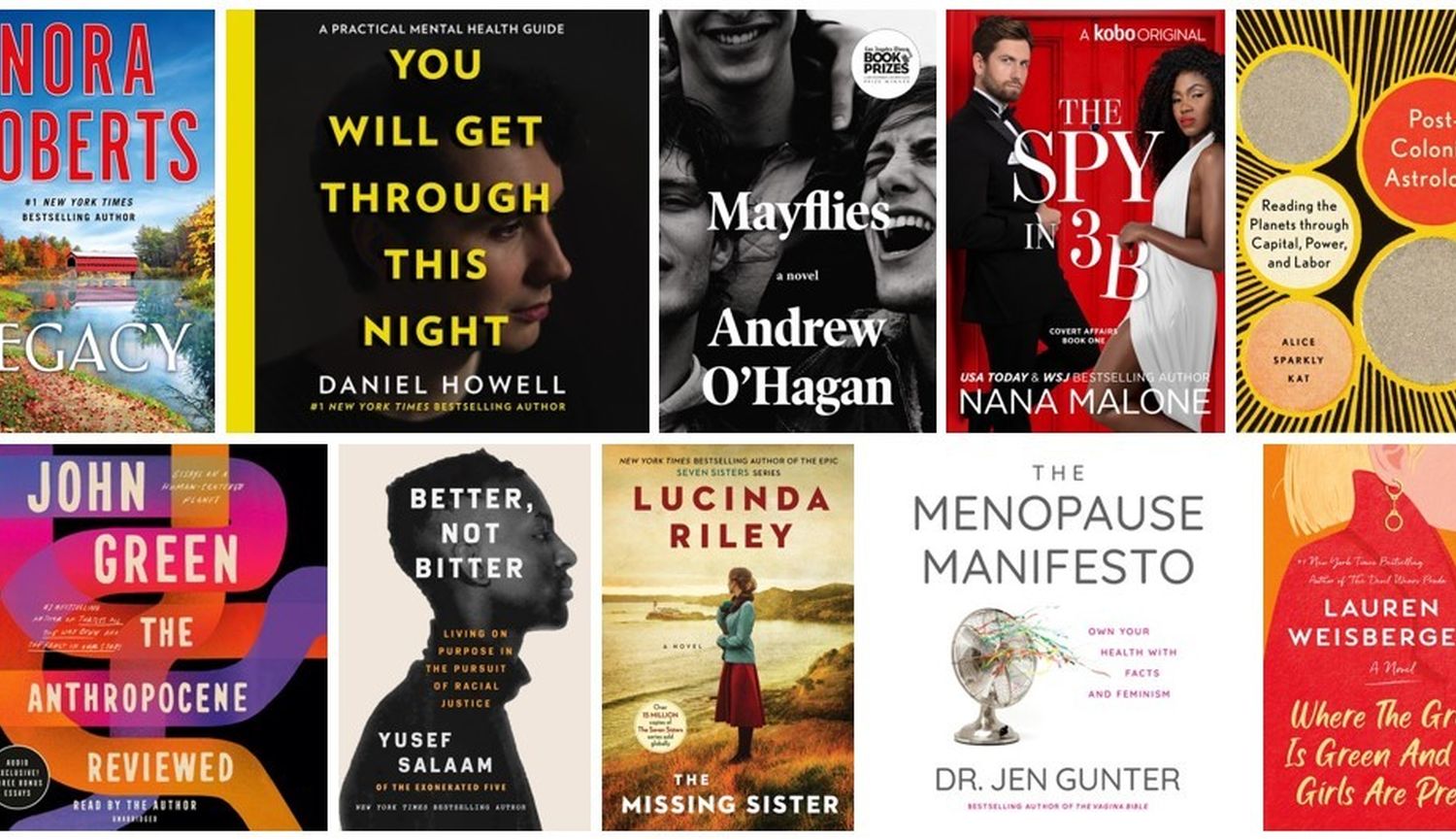 66 new eBooks and audiobooks coming out May 18 - 31
Welcome back to New & Hot Reads, where we gather up some of the most anticipated eBooks and audiobooks coming out now
In John Green's hit podcast The Anthropocene Reviewed the wildly successful YA novelist (he wrote The Fault in Our Stars, among other blockbuster hits) contemplates various things, ranging from the act of whispering to the classic videogame Tetris to the phenomenon of love at first sight -- and rates each one on a 5-star scale. So you know what you're getting with his new book, The Anthropocene Reviewed, especially if you opt for the audiobook. And if you've never heard of the podcast, don't worry: Green's earnestness and sense of wonder welcomes you into each essay, including his evaluation of the QWERTY keyboard, sunsets, and seemingly everything else you never thought of paying attention to.
Yusef Salaam was 15 years old when police picked him up outside New York's Central Park in 1989 on suspicion of assaulting Trisha Meili in the park at night. He and four other boys police arrested that night, came to be known as "the Central Park Five." They were convicted and sentenced to prison terms, though they all continued to profess their innocence. In 2002, after all five had served prison time and their families had suffered all that comes with having a loved one convicted, the actual assailant came forward and DNA evidence confirmed his confession, leading to the five convictions being vacated. Better, Not Bitter is Salaam's memoir and call for prison reform, marking the first time one of the five, now known as The Exonerated Five, has put their own story into their own words. With so much discussion of freedom and justice taking place today, it's beyond helpful to have this voice to add to the conversation, putting into perspective what's at stake and what it really means when freedom is stolen and justice thwarted.
One of the best kept secrets in the field of espionage is that spies have needs too. But how to wade into the dating pool when you can't tell the truth about yourself? In Nana Malone's The Spy in 3B that's the problem elite undercover agent Lyra grapples with. But does the truth matter when you're just tracking down a hookup? It might if you're secretly a spy and you swipe right on someone else with the same secret. Action-packed sexy stories are Malone's specialty, and this is the first blow in a planned one-two punch of a series rolling out just in time for summer (The Assassin in 5F is out July 13).
When we speak of coming-of-age stories, we're usually talking about stories that trace the arc from youth to early adulthood. But that's not really how growing up works; as we've seen recently in books like Marian Keyes' Grown-Ups, there's always another stage to get to, another experience coming at us whether we're ready for it or not. Andrew O'Hagan's Mayflies is about two childhood friends who grow up together joined at the hip. Late in mid-life, one of them receives a bad bit of health news: he's dying of cancer, soon. What makes it a coming-of-age story isn't just the story of their growth in youth, but how the two men handle the rude arrival of mortality, which forces them to find a new mode for their friendship as it enters its final chapter. Here we have a story about a universal experience -- the death of a loved one -- handled with the kind of emotional dexterity readers cherish in stories about that other universal experience; growing up. O'Hagan was named in 2003 one of the top 20 young British novelists by the literary magazine Granta, and has published a number of acclaimed works of fiction and non-fiction; for readers of Booker-winning types like Ian McEwan, Colm Tóibín, and the like, this might be the time to discover Andrew O'Hagan.
More books coming out May 18 - 31
💭 Big Ideas
🗣 True Stories
💘 Romance
🗡️ Thrillers, Action, and Crime fiction
🖊️ Literary Fiction
✨ Fantastical tales of Other Worlds and Other Times
Check out even more new eBooks & audiobooks here