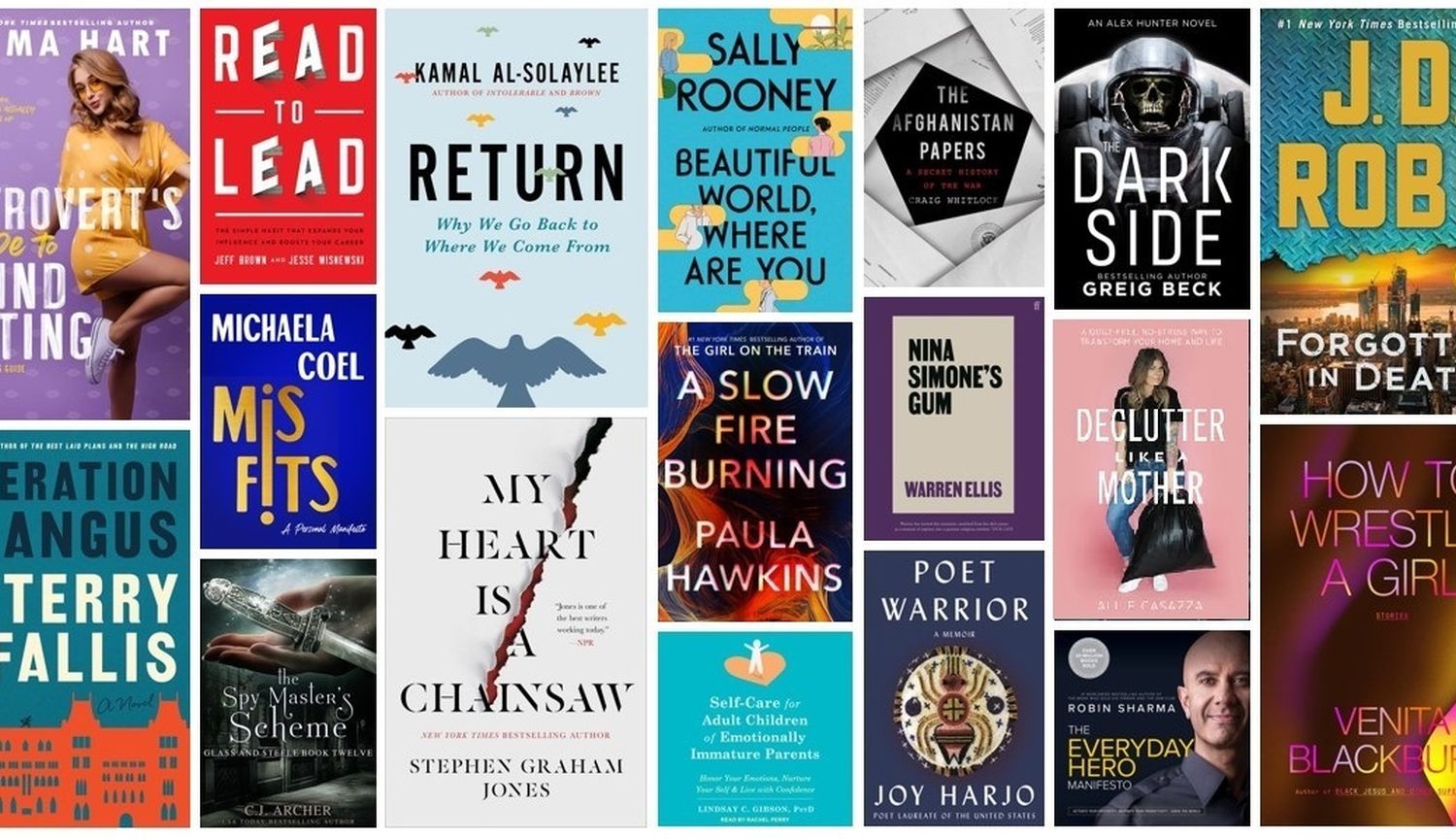 63 new eBooks and audiobooks coming out August 31 - September 13, 2021
Welcome back to New & Hot Reads, where we present some of the best eBooks and audiobooks coming out now.
This week it's a double-stuffed edition to make sure you've got everything you need to get through the Labour Day long weekend and beyond!
Paula Hawkins, author of the monumental bestseller The Girl on the Train and the highly successful follow up Into the Water is back with her third novel, A Slow Fire Burning. It is, as readers have come to expect from Hawkins, a twisted tale of secrets and agendas tucked just out of sight, centred on a violent crime. Since the twists are everything, we don't want to get into spoiler territory with further description, so just pick it up.
Another author with blockbuster bonafides, though with a quieter, more literary, decidedly more Irish inclination is Sally Rooney, author of Normal People and Conversations with Friends. We rely on Rooney to take us into the lives of characters who are capable of loving and hurting one another, but somehow incapable of saying what needs to be said to really connect. In Beautiful World, Where Are You we get that exquisite ache, just as we've come to expect, but strung between a quartet of young people who are just realizing that youth doesn't last forever. Neither, sadly, does a Sally Rooney novel -- but at least we have this new one to read.
Michaela Coel's new book Misfits: A Personal Manifesto is suitably difficult to describe. Coel, the creator and star of the shows I May Destroy You and Chewing Gum, has written an essay on the merits of not fitting in as Coel has experienced in her lifetime growing up in London public housing. It's very brief, but Coel, both of whose shows found their natural conclusion after just a dozen episodes, has never been one to overwrite or take her audience's attention for granted.
Kamal Al-Solaylee is a Yemeni expat living in Toronto, and the author of Brown: What Being Brown in the World Today Means (For Everyone) and the memoir Intolerable. Both of his books are concerned with the edges of feelings and places: where people belong and where they don't. His new book Return: Why We Go Back to Where We Come From runs headlong at belonging as a physical journey, as he interviews dozens of people who've gone back to their homelands. Spanning out around the globe, Al-Solaylee interviews people from Ireland, Taiwan, and the Basque region, to name just a handful of places. He himself ventures not quite to Yemen, meeting up with family in the Middle East and discovering that the places we long to return to are forever lost. It's a beautiful, melancholy book, that speaks in a way to the condition we're all living through, as we try to return to some of the places we left behind last year, only to find them, and ourselves, forever changed.
Read to Lead: The Simple Habit That Expands Your Influence and Boosts Your Career by radio personality Jeff Brown and marketing pro Jess Wisnewski puts forth a premise we're hard-pressed to challenge: your life will be better if you read books regularly. Though the authors focus on career advancement, it's not just about reading your way through the management & leadership section, either: a thoughtfully curated reading life can broaden your mind and lead to greater satisfaction -- and the authors have the science to prove it. Not that we needed convincing at all.
More books coming out August 31 - September 13, 2021
💭 Big Ideas
🗣 True Stories
💘 Romance
🗡️ Crime, Action, and Mystery
🖊️ Literary Fiction
✨ Fantasy and Speculative Fiction
Check out even more new eBooks & audiobooks here