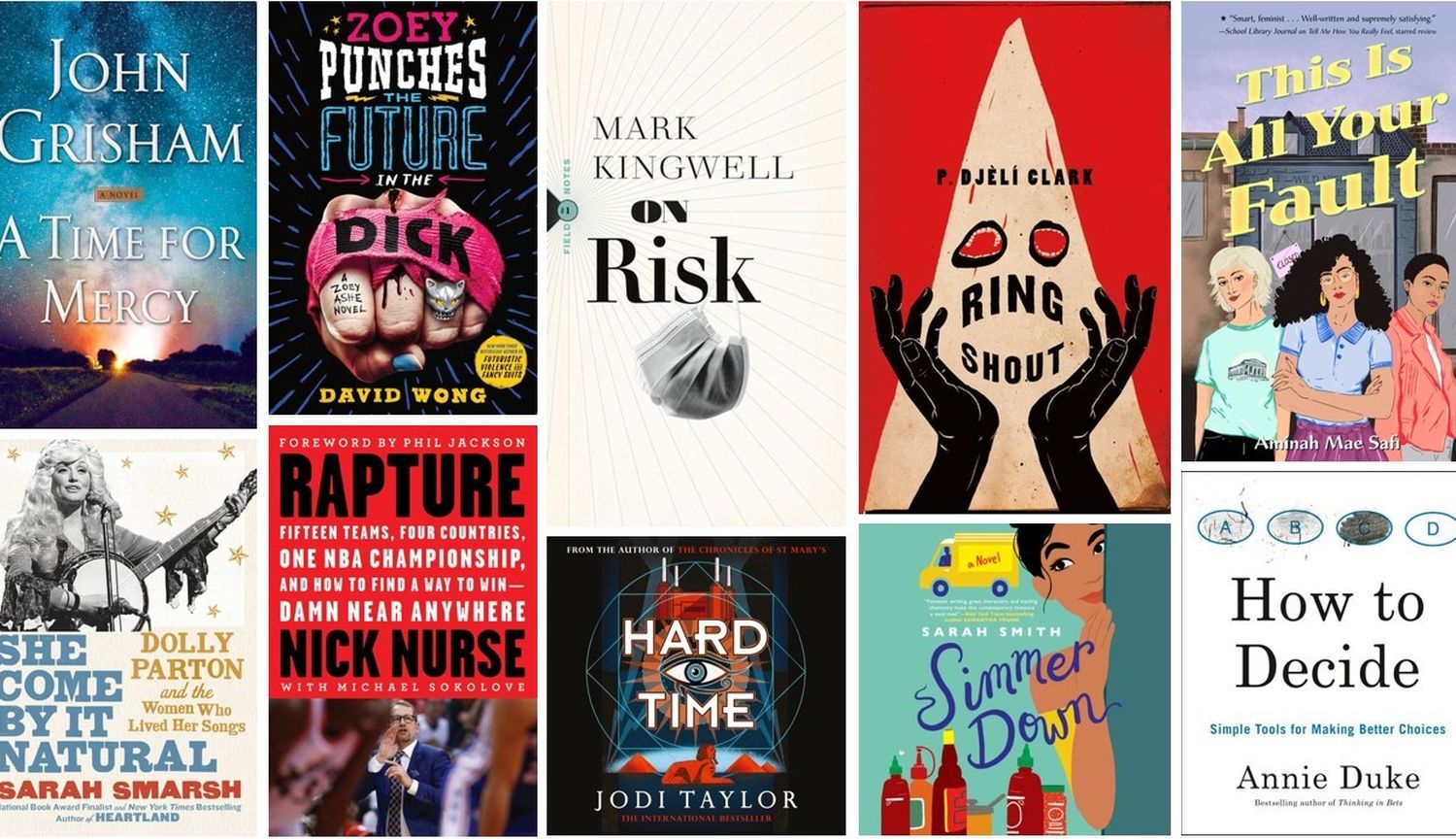 31 new eBooks and audiobooks we're looking forward to this week
Welcome back to New & Hot Reads, where we talk about some of the most anticipated books coming out now
What's the word for a writer of fiction whose favoured form is the novella? Novella-ist? Long story writer? P. Djèlí Clark now has several award-winning works of speculative and fantastical fiction to his name, all of which are short-ish novels and long-ish stories -- including his latest, Ring Shout. (Clark's first novel comes out next year, at which point we'll breath a sigh of relief and refer to him henceforth as a novelist.) For Black people harassed -- and worse -- by the Ku Klux Klan, it must have felt like demons walked the earth. In Ring Shout that's what they actually are. D. W. Griffith, pioneering American filmmaker and secret sorcerer, through his landmark film The Birth of a Nation casts a spell that calls forth the hounds of hell across the country. It's a shocking concept at a time when we're having a cultural conversation about the deep and often subtle ways that racism is rooted in society. But perhaps spending some time with a band of hood-hunting resistance fighters bent on driving the Klan back to where they came from is what we need right now.
Philosopher Mark Kingwell's new book On Risk is also short: it's the first in a series called Field Notes that will discuss contemporary topics more deeply than a long blog post or magazine article, but shorter than a typical book. In On Risk, Kingwell looks at the situation we're in now, as we weigh on a daily basis real threats to our health and the health of our loved ones, as well as our neighbours and people doing jobs we depend on. He picks through the ethics of how we decide who's essential, what to lock down and what to allow, and how we choose to live now. We hope publishers of overly lengthy non-fiction are taking notes on the Field Notes series.
It's going to be a while yet before we go back to relying on habits to keep us safe, and that means we're going to have to keep on making more decisions than we're used to. In How to Decide Annie Duke (author of the 2018 bestseller Thinking in Bets) presents readers with a variety of models for thinking about the options before them and avoiding decision fatigue as well as regret. Readers learn to consider the role of luck, to assess their own biases, and how much effort to spend on any given decision. While her examples largely draw on "normal" life, the methods she offers are perfectly applicable in these abnormal times.
Pity the basketball fan. It's October, when we should be watching the start of the new season after the summer break. Instead the 2020 championship has just been won by the LA Lakers in a thrilling series against the Miami Heat, leading to the emptying of "the bubble" in Orlando that kept players safe and healthy. Rapture, by Raptors head coach Nick Nurse and New York Times Magazine writer Michael Sokolove is the book basketball fans need to get through a postseason period unlike any other. Nurse was named 2020 Coach of the Year for a variety of very good reasons (notwithstanding the Raptors' elimination in the Eastern conference semi-finals); in this book, we learn a bit about his personal story, his leadership philosophy, and how he handles adversity. Like, for example, not knowing when the next NBA game will happen.
This Is All Your Fault is a can-do feel-good story and the third book from Aminah Mae Safi. It takes place at an independent bookstore called Wild Nights. On the first day of summer word gets out that Wild Nights will soon close, which comes as terrible news to a trio of teenage employees who were counting on the money they were going to earn through the season. They hatch a plan to save the store, and many antics ensue over the course of a single day. Imagine the movies Clerks and High Fidelity, but younger and less overwhelmingly male.
More books coming out October 13 - 19
💭 Big Ideas
✍️ True Stories
💘 Romance
🗡️ Crime Fiction and Thrillers
🖊️ Contemporary Fiction
✨ Tales of Other Worlds and Other Times

Check out even more new eBooks & audiobooks here